A full range available from Thirsk Hearing Practice
The Thirsk Hearing Practice, Thirsk's Leading Hearing Aid Centre
At The Thirsk Hearing Practice, we know that the hearing aids you wear are incredibly important.
We only supply the very best hearing aids from the world's best manufacturers – as no one ear or loss is the same, we recognise the importance of providing our patients with a bespoke solution.
As an independent hearing aid provider, we have complete freedom to recommend the best digital hearing aids to suit your needs.
There is a range of different hearing aid styles available, including Invisible in the ear (IIC), Receiver in the Canal (RIC) and Behind the Ear (BTE) hearing aids, so what's the difference, and which hearing aid is right for you?
Invisible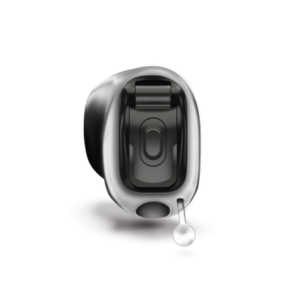 IICs fit snugly in your ear and recent miniaturization means we have space for wireless ear-to-ear operation, automatic noise sensing & remote control. These are bespoke, made to measure hearing instruments, designed and customised for your ear. Suitable for mild- to severe hearing loss. (Try the PHONAK B90 TITANIUM or LYRIC 3.1)
Receiver in canal
Behind the ear
Connected
Hearing aids are also available in a number of different technology levels. Typically manufacturers use four levels, loosely termed as basic, standard, advanced and premium. A basic hearing aid will still use the latest technology, but will have less features and hence tends to be designed for people who are relatively inactive, who need help in less complex listening situations.
On the opposite end of the spectrum, premium hearing aids deliver all of the latest features. They are designed to handle the most complex listening situations, deliver the most natural sound quality and best speech clarity.
All modern hearing aids will have a mixture of different features, so hearing aids can be programmed by your audiologist to ensure you get the most out of them for your lifestyle. The easiest way to explain hearing aid features is almost like the Apps on your iPhone/ Smartphone, which all have a different purpose!

Audeo Marvel 2.0
Utilising the intelligent operating system, AutoSense OS, Virto M offers more performance in a smaller size than any other custom hearing aid, due to its Floating Antenna. This is a breakthrough piece of technology which allows the leading UK manufacturer to create smaller and more agile custom products to ensure your hearing aid is discreet and seamlessly fits into your lifestyle.
Phonak benefits from an immense amount of British skilled technicians producing custom products for 10 European countries, and so when it comes to actually making a small IIC hearing aid that is built correctly and proves to be reliable, it's usually Phonak that we choose. Now available in titanium custom ultra-thin shell.
OPN S1
Virto M
Lyric
Wireless Communication Products
"When Hearing Aids Aren't Enough"
Hearing aids excel over short distances in quieter environments, but for some people a hearing aid will not provide a complete solution. That's why York Hearing also offer Wireless Communication Products to help you hear in noise and over distance.
From a cordless phone that connects directly to your hearing system, to the pioneering super-directional Roger Pen, we have something to help.